The
Blueprint

to Building a Healthy Low EMF Home

Introducing the step-by-step system to build the ultimate healthy low EMF home. Don't risk your health and sanity by building a toxic home
High levels of non-native electromagnetic radiation (EMFs) affects most new home builds. This impacts the health and well-being of everyone living inside.
There's now over 10,000 peer reviewed studies¹ showing the adverse health effects of EMFs. Even top World Health Organization advisors such as Dr Anthony Miller are concerned.
Experience a Home in Harmony with Life
Imagine building the home of your dreams – one that evokes a harmonious feeling like none other. Welcome to a new era in healthy home design – a low-EMF home by Biome Living
Discover the secrets to building the ultimate healthy low-EMF home from our certified electromagnetic radiation specialist.
Get relief from living in an artificial soup of EMFs that over 10,000 studies show causes stress and harm to health.
Create a natural and harmonious home that allows your body to heal, relax and repair.
Experience a healing environment without damaging EMFs. Replicate how our ancestors lived for centuries.
Hi, I'm Matt Cossey
I'm a certified electromagnetic radiation specialist from Sydney, Australia. I've helped protect people all over the world from EMFs. I also host the Invisible EMF Podcast.
Build a home that protects your health without the hazardous EMFs
What's Included?
Consultation
Understand the entire process and get help. Talk directly to our certified EMR specialist before, during and after construction.
The Blueprint
The blueprint takes you through the entire process step-by-step. A hassle-free process to make construction simple!
Checklists
Avoid the hassle of having to explain things. Includes construction checklists for yourself and your builder.
Support
Have our certified EMR specialist ready to assist you. Get help from an expert whenever you need it.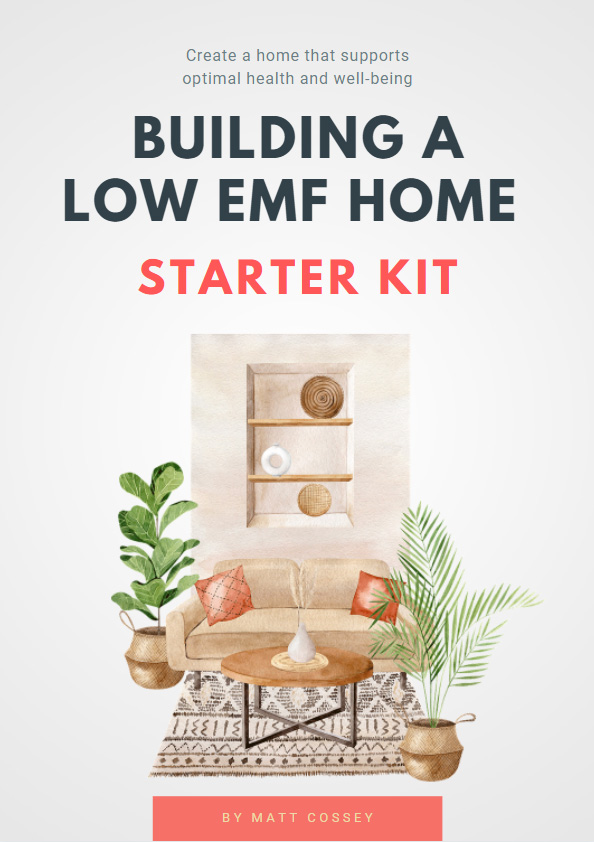 GET YOUR FREE STARTER KIT
See our rave reviews
Fantastic service
Matt was very knowledgeable and passionate about the topic of EMFs. He went above and beyond in performing the assessment and answering my many questions. It was great to be able to talk to someone who knew about electro hypersensitivity, and he was able to identify the potential cause of why I was feeling sick ever since I moved into my new apartment (which I couldn't pick up using my own EMF meter). I didn't know such a niche service even existed until a few weeks ago but I'm glad I found it. Highly recommend.
Exceptional Service and Advice
Matt was knowledgeable, professional and friendly. I highly recommend his services. A valuable investment for peace of mind. Matt knows his stuff, he's thorough, detailed and provides actionable insights. He made time to help my family before Christmas, which I'm very grateful for. He genuinely cares about his clients. A+++
Very happy
I had an assessment conducted this week by Matt. He was extremely knowledgeable and was beyond expectations. 5 stars
Passionate, knowledgeable and articulate
Matt was incredibly passionate, knowledgeable and articulate. He spent the day at my place and was extremely thorough in his approach and an expert on EMF's. I learnt so much and I am extremely motivated to now put Matts recommendations into practice around the home to protect my family from the harmful effects of EMF's. So glad I have done this process with Matt!
Very detailed report
Matt did a really thorough report on my home. I was impressed by how knowledgeable Matt was – he was able to answer all of my questions. He also had a lot of top equipment making his assessment extremely detailed and accurate. His reports was very detailed and he had helpful solutions for problem areas in my home. In particular during the assessment, he helped me to reduce the EMF exposure around my son's cot – measuring before and after results.
Don't Wait Till Your Construction Begins
Don't delay – now is the time to act before construction begins. Unfortunately if you leave it till the construction phase – it may be too late to implement our recommendations.
Ripping down walls, changing the homes design and getting rid of high EMF systems is extremely costly after construction. This needs to be done during the homes construction not after.
Get These Incredible Bonuses FREE
7 Steps to Lower Cell Phone Radiation – An industry insider speaks out to show you these 7 powerful hacks to protect yourself. You won't believe step 4! – RRP $100
Test for EMFs Beginners Course –
Order Within the Next 3 Hours Get $500 OFF
This is strictly a one time offer – don't delay! If you miss out we cannot offer this significant discount again – full price will apply.
It costs $30,000+ for us to fit out homes in Australia. Get the same result at a fraction the cost.
Get started with building low EMF Home